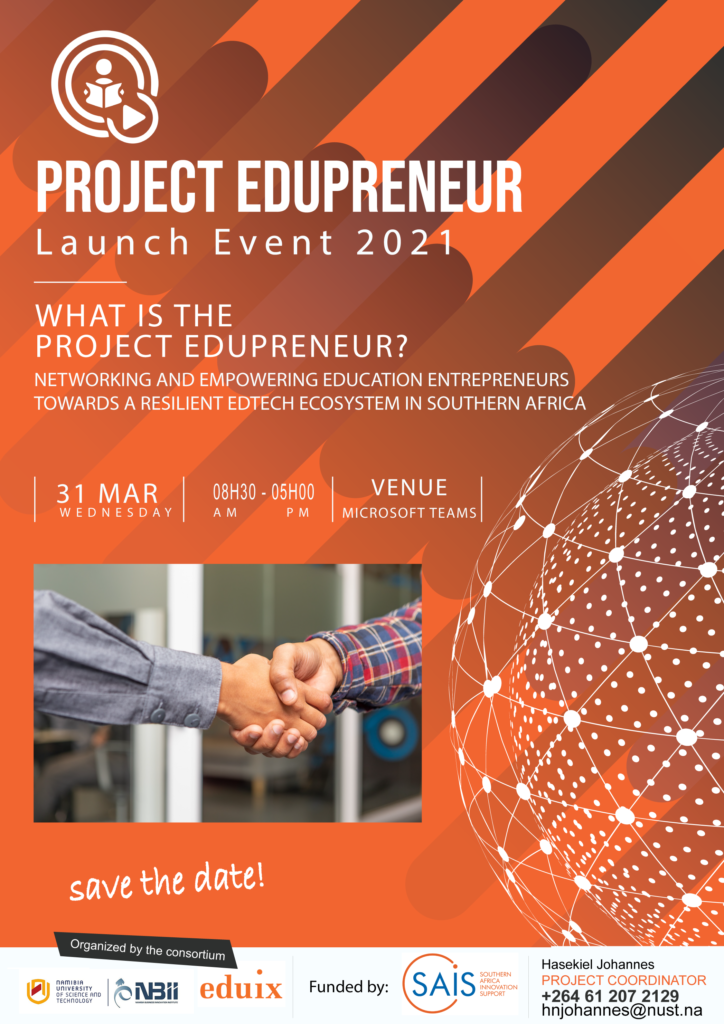 On 31st March 2021, join us for the launch event of Edupreneurs: Networking and Empowering Education Enterpreneurs towards a resilient edtech ecosystem in Southern Africa. The project is funded by the Southern Africa Innovation Support (SAIS) 2.
About the project
The purpose of this project is to develop a digital business ecosystem in Southern Africa able to leverage the edtech infrastructure and education software development in the region. Such an ecosystem aims at solving challenges risen due to the lack of digital infrastructure and personnel with digital competencies, even more, exacerbated due to the covid-19 pandemic.
Key Objectives
To build a digital platform for strategic partnership. we will provide the needed digital infrastructure for entrepreneurs to collect and process data about potential customers across the region; network with relevant stakeholders (B2B and B2C); and promote their services and products.
To increase digital and business competence through capacity building. we will empower education stakeholders, software developers, and entrepreneurs on digitizing processes and innovating business towards sustainable economic growth and resilience in challenging times.
To publish a policy paper on building-up a resilient business ecosystem. We will integrate practical experience with knowledge creation, resulting in a policy paper for supporting southern africa governments to consolidate resilient start-up ecosystems in sectors other than the ed-tech field.
Keynote speakers
Special keynote speakers will be present to celebrate the start of the project. Among them, we already have the confirmation of Mr. Ilari Lindy, Lead Expert and SAIS 2 Innovation Fund Manager; Dr. Altti Lagstedt, Principal Lecturer at Haaga-Helia UAS (Finland); and Ms. Krista Davison, Head of Programmes and Incubation, Injini Africa (South Africa). Each speaker will bring to the event their expertise and professional experiences in building resilient business ecosystems.
Workshops for needs assessment of the education business ecosystem in Southern Africa
The event will also offer workshops for the participants to share their experiences and understanding of what are the core needs of education institutions and companies to network, build capacity, and thrive during critical times.
Do not lose this opportunity! Register for the event here.